Why Certain Types Of Buyers Will Pay More Money For The Same Business
An ecommerce business that was two businesses in one and how the lack of understanding and accounting of inter-company transfers not only nearly derailed a deal but almost cratered the entire business. The importance of having a CFO, either a fractional one or full-time one, and how this can make the difference between a successful company and an exit or a failed company and a botched exit.
The sellers of a business felt that their business was worth a lot more than the financials showed. Different types of buyers will pay different prices for the same business and how the bank really sets the price if the deal is going to be financed.
Entrepreneurs that have a service-based business often fail to realize that when selling a business what they are selling is primarily goodwill because the assets are only a small fraction of what the business is valued at. A buyer is really buying the cashflow that is produced by the employees, management, and systems that are in place vs. the trucks, tools, and equipment.
A seller folded to a company that was willing to overpay for the business because they wanted the skill set of the owner. They offered him a sweetheart deal and his dream job to oversee their entire business.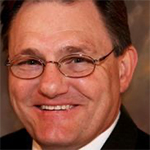 Richard Gadberry
Murphy Business & Financial Corporation
Dallas, Texas
Visit Website
Send E-mail
Podcast: Play in new window | Download (Duration: 47:27 — 43.4MB)
Subscribe: Apple Podcasts | Google Podcasts | Spotify | Amazon Music | Pandora | iHeartRadio | Stitcher | Blubrry | Podchaser | Podcast Index | Email | TuneIn | RSS