How a 4th Generation Business Doubled Their Sales After It Was Sold
A 4th generation business started in the 1890's. As you listen to this deal story you will learn how the new owner was able to double the business in less than a year.
A lower valuation on a business appraisal can dramatically change the economics of a deal, but how, if you understand the reasons an appraisal comes in lower than anticipated, you can actually get the appraiser to change their valuation, something that rarely happens. Knowing how the valuation was arrived at can actually help you in presenting a case for a higher valuation.
One of the things that all sellers and buyers need to be aware of when selling or acquiring a franchise business. Knowing some of these issues in advance can actually avoid a lot of problems when dealing with a franchise business during the sales process.
A business that was acquired seven years earlier as an asset sale, which means that the business was purchased for pennies on the dollar for the discounted value of assets, and how the owner returned seven years later with a business that had grown 100x in sales and sold to a buyer who was going to take the business to the next level again.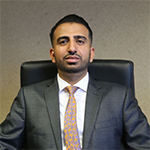 Haroon Bhatti
Capital Business Brokerage
Farmington Hills, Michigan
Visit Website
Send E-mail
Podcast: Play in new window | Download (Duration: 45:30 — 41.7MB)
Subscribe: Apple Podcasts | Google Podcasts | Spotify | Amazon Music | Pandora | iHeartRadio | Stitcher | Blubrry | Podchaser | Podcast Index | Email | TuneIn | RSS